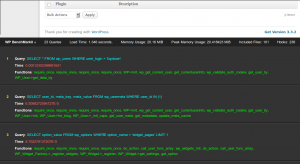 WP BenchmrkII is a tool that I made for profiling, benchmarking and development.
It has many key features that can significantly help with these tasks.
This tool is in development itself, but I use it almost daily for my work.
Its very powerful and helps me greatly in my day 2 day WordPress work.
Features
Database Query Count
PHP Load Time
Memory Usage
Peak Memory
Include Count
Hook Count
Current Template
List Queries (Query, Time, Functions)
List Includes (With filters)
List Hooks
List Constants (user)
Show in admin also
Currently some of the biggest issues I am asked from WordPress clients are about performance. I use this tool to locate and remove performance bottlenecks.
I also use it when developing client sites in WordPress so that I can keep track of how my code performs. This way if something goes high, like memory after adding the code, I know it needs refactoring.
This plugin is Open Source and can be downloaded from my GitHub account. Get the code here.
If you use it, you should follow this project, I change it adding new features constantly.
Or, download directly the latest version from the git repository. Download Zip
Rename the parent folder to WP-Benchmark after unzipping.
LIke I said, this is in development and may have some bugs. Please let me know if you find some.